NerdsToGo B2B Strategy
Our Business to Business Structure
In Q4 of 2020 we launched our NerdAssure program targeting businesses with a subscription based, recurring revenue product offering. NerdAssure is a Managed Service Plan that is customized to each of your client's needs.
Built on the key pillars of technology we use NerdAssure to provide a solid technology foundation for our clients. From that foundation we create an environment for these businesses to flourish, as our services expand along with them.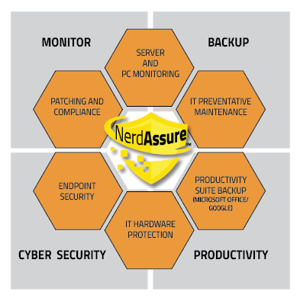 At its core NerdAssure provides:
Business Continuity/Disaster Recovery
Remote Monitoring & Management
Productivity Solutions
Cybersecurity & Protection
Machine Alerting & Policy Creation
Trained Monitoring of Networks
And so much more!
Our Support Structure
With our parent company Propelled Brands, NerdsToGo, is part of a franchise family with over 1000+ open locations across the globe. With this size comes an amazing level of support in the areas of:
Real Estate & Site Selection
Sales Training
Supply Chain
Business Consultant
Advanced IT Team staffed for advanced IT support
Initial & On-going Marketing Campaigns
If you're ready to take the next step in owning your own NerdsToGo Franchise call us today at (855) 949-5150!